The Benefits of Installing an EV Home Charging Station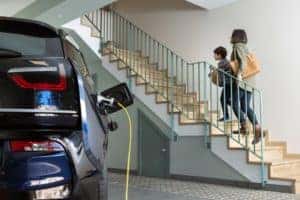 Some of the most common questions our service center receives pertain to EV home charging stations. As one of the leading GMC dealers in Michigan, we decided to compile this brief guide to home charging options and their many benefits.
EV Home Charging: Level 1
Level 1 charging is simply another way to refer to charging your electric vehicle via a standard 120V household outlet. Though it comes as a surprise to many, it is possible to charge an electric vehicle with the same power outlets you have in your home.
The primary benefit of this method is convenience and cost efficiency. Although it takes the longest time among all charging methods, 120V outlets are abundant and electricity is vastly more inexpensive than gasoline.
EV Home Charging: Level 2
Level 2 chargers provide faster-charging speed with a higher 240V rating. They are commonly found in public parking structures or near office spaces, providing quick and convenient charging that can recharge plug-in hybrid vehicles in roughly two hours. Depending upon the remaining charge left in your battery, Leve 2 charging can refuel outstanding electric vehicles like the GMC HUMMER EV in as little as 10 hours.
Perhaps most compelling, however, is the ability for these Level 2 charging stations to be installed in your home. Because of their complexity, these stations must be professionally installed by our GMC service center, but they bring the exceptional speed of Level 2 charging capability to your driveway or home garage.
EV Home Charging: Is It Right for Me?
If you have a plug-in hybrid or fully electric vehicle, installing a home charging station can make your life a lot easier.
Though more charging stations are appearing every year, the convenience of being able to fully charge your EV in mere hours – even while you sleep – provides the ultimate peace of mind by knowing your vehicle is always ready to hit the road when you are.
Speak to LaFontaine Today about an EV Home Charging Station
With so many clear benefits to home charging, it's no wonder that EVs are becoming more popular in our community. Call or visit us online at Lafontaine Buick GMC, Inc. to speak with our EV technicians today!