The Differences of the Three Levels of Charging an EV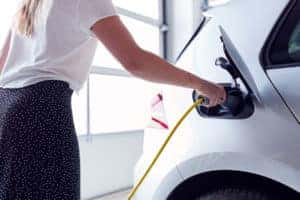 those unfamiliar with electric vehicles, they may seem like an enigma and spark some questions. Is it true they require less maintenance than their combustion powered counterparts? Are they expensive? How long do they take to charge?
EVs are, in fact, less expensive to maintain than gas powered cars and they cost less to fuel up as well. While you still have to pay for the electricity used to power an EV's battery, you'll have three levels of charging at your disposal. Allow the team at LaFontaine Buick GMC Lansing to explain the differences of the three charging levels.
Level 1 Charging
Of all the charging level, Level 1 is the most accessible option. This type of charging employs 120-volt outlets to power up an EV.
With Level 1 charging, an EV gains two to five miles of driving range every hour. Most homes have 120-volt outlets throughout, which makes it easy to plug in an EV's wall connector cable and charge the car.
Level 2 Charging
Level 2 charging is faster than Level 1 charging because it relies on a 240-volt outlet. Level 2 chargers are the most common chargers found at public charging stations.
Every EV can use a Level 2 charger, but some drivers may need to have a custom charging station installed if they plan to use Level 2 charging at home. Level 2 charging adds 10 – 25 miles of range every hour an EV remains plugged in.
DC Fast Charging (Level 3)
Also known as Level 3 charging, DC fast charging is the quickest way to charge the battery in an electric vehicle like the GMC Hummer EV. DC fast charging employs a 480-volt AC circuit, which speeds up the charging process dramatically. In general, an EV's battery can reach 80 percent capacity in as little as 15 – 45 minutes.
As a general rule, it's wise to reserve the use of DC fast charging for long road trips. That's because using a DC fast charger too often may shorten your battery's life.
Now that you know what your charging options are, it's time to buy or lease an EV. Get in contact with our team of GMC dealers and visit our GMC finance center now!