Questions to Ask Your Buick or GMC Mechanic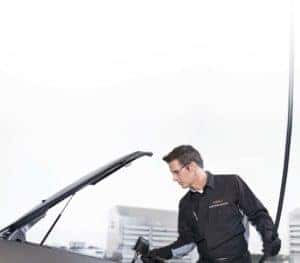 If you've ever wished you could sit down with a GMC mechanic to ask some questions, know you can do just that in our GMC service center. Our talented, factory-trained technicians are always happy to answer questions. Remember, the only silly question is the one that goes unasked, so don't ever hesitate to ask us anything.
What are some questions you should ask your trusted GMC mechanics or Buick technicians? We have a few suggestions for you that touch upon some common topics we're asked about often.
When Should I Bring My Vehicle in for Service?
As a Lansing, MI GMC dealer, we advise you to bring your vehicle to our GMC service center whenever it needs a repair. To see when your automobile will need some routine maintenance, consult your owner's manual or give us a call.
How Can I Tell If My Battery is About to Die?
Unlike other car parts, batteries don't always communicate when they're about to expire. If you're lucky, you'll notice that your lights are dimmer than usual or that it takes longer for your engine to turn over when you start your automobile. Both of those things are signs that your battery is about to conk out.
What Does It Mean When I Hear Squealing Emanating from My Wheel Wells?
It means it's time to bring your automobile to LaFontaine Buick GMC Lansing for service, especially if that squealing has morphed into a grinding sound. In general, squealing coming from your wheel wells indicates your brake pads are worn while grinding noises mean they're completely shot, and your rotors are at risk for expensive damage.
Why Does My Car Pull to the Side?
If your car is pulling to the side, your alignment might be off. Even the latest GMC models like the GMC Acadia and the GMC Terrain can get knocked out of alignment if you hit a curb or go over a pothole or speed bump too quickly.
If I Work on My Vehicle Myself, Should I Use OEM Parts?
Absolutely. The OEM parts you can get in our GMC parts center are always the better choice over aftermarket components. Not only is their quality higher, but GMC parts are covered by a factory-backed warranty.
What's the Difference Between your GMC Service Center and Body Shops?
We perform mechanical repairs in our GMC service center. The pros in our body shops handle issues related to the non-mechanical components on your car, such as fixing a dent in a body panel.