What are my Payment Options When Leasing a GMC Vehicle?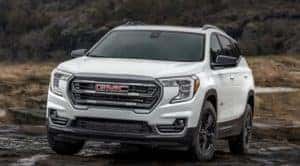 Leasing a vehicle is by far one of the most affordable options for owning a new vehicle. By leasing a vehicle, you will have a significantly lower down payment and overall lower monthly payments, reducing your total expenses for owning a vehicle.
LaFontaine Buick GMC Lansing offers flexible GMC payment options for leasing a new or pre-owned GMC vehicle. We make the leasing process worry and stress free, from start to finish.
Benefits of Multiple Security Deposits
When leasing a GMC vehicle, you may be required to pay a security deposit for your GMC lease. One security deposit will equal one month of your lease payment rounded up to the nearest $50 increment. For example, a $375 security deposit will equal a $400 payment.
You do have the option to pay additional security deposits as well. Multiple security deposits will help to reduce your monthly payments. But, if your interest rate is low or zero percent, multiple security deposits may not be necessary. Please contact our GMC finance center for more information about security deposits.
One or Single-Pay Lease
While you can stick to the monthly payments of your lease contract and pay them one month at a time, you can pay all of your monthly payments at the start of your contract with a one or single-pay lease. By doing this, your lender may choose to decide to lower your interest rate, bringing your total expenses down for the entire cost of the lease for a new GMC vehicle or pre-owned GMC model.
You may want to first discuss this option with one of our finance experts to determine if this would be a beneficial option for you and your budget.
GMC Lease Specials
Our dealership also has available an exclusive offering of GMC lease specials for an even more economical option for leasing. If you have any more questions about the lease process or payment options for leasing, please contact LaFontaine Buick GMC Lansing. We have a talented team of sales and finance experts with expertise and knowledge with leasing and assist you with all of your leasing questions and concerns.