Understanding the GMC Parts in an Electric Car Battery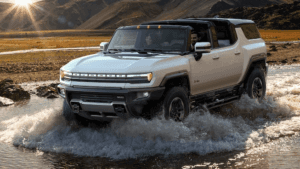 Many new owners of hybrid electric automobiles have questions about the GMC parts in their vehicles – particularly the electric battery. To best assist drivers around our Lansing, MI Buick dealership, we assembled a brief guide to understanding this critical component in your hybrid GMC model.
Legacy Battery Systems
Some drivers are surprised to learn that their hybrid car, truck, or SUV actually has two kinds of batteries. The first – a legacy car battery – is identical to the standard batteries that all gasoline combustion engines possess.
This vital piece of equipment provides the jolt of electricity that brings your engine's starting motor to life and powers peripheral electric systems while your car is running. These batteries use a lead-acid chemical reaction to generate electricity, providing efficient and reliable energy whenever it is needed.
High-Voltage Battery Systems
In hybrid and fully electric vehicles, an additional high-voltage battery and motor system is present, which either supports or takes the place of the classic gasoline combustion engine.
Hybrid powertrains, like that available on the popular GMC Yukon, feature an electric motor and connected battery pack to supply additional power to a gasoline engine. This helps to deliver better performance with more efficient fuel economy.
All-electric vehicles, such as the GMC Hummer EV, leverage the latest in battery and electric motor technology to deliver truly stunning results, such as a manufacturer-estimated 329-mile all-electric driving range.
Battery Service for Electric Vehicles
Because of the inherent danger surrounding high-voltage electrical components, we always recommend that you leave any work on your EV battery system to the experts at our GMC service center. Whether your legacy battery needs a fresh charge, or your electric motor hasn't been as crisp and responsive as you remember, let us do the heavy lifting by diagnosing and repairing the issue at hand.
Schedule Service for Your GMC Parts
If your hybrid car, truck, or SUV is experiencing trouble, don't wait another day to seek help. Call or visit us online at Lafontaine Buick GMC, Inc. to schedule service for your electric vehicle today!