Tips for Protecting Your Brakes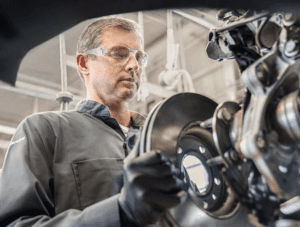 One of the most important parts of your car is your brakes. Your brakes help you stay safe and keep other drivers safe when you're on the road. That's why it's crucial to keep up with regular brake maintenance and use genuine GMC parts when you need a replacement.
Our expert service and parts department here at LaFontaine Buick GMC Lansing is here to help keep your brakes in tip-top shape. When you notice a change in your brake's performance, we are here to provide your car with the service it needs.
Brake Basics
Believe it or not, your car's braking system is complex and made up of a number of pieces that work together when you hit the brake pedal. When you hit the brakes, an attached lever pushes a piston into the master cylinder, a major brake component that is filled with hydraulic fluid. If any of these components or others stop working, you'll run into trouble braking.
Drive Smarter and Lighter
Outside of recommended regular maintenance, there are some driving changes you can make to protect your brakes. Focused, attentive driving can help you react quickly, allowing you to brake gradually rather than stopping suddenly. Sudden stops add stress to your brakes, so prevention is key here.
Another way to prevent brake issues is to keep load in your Buick vehicle as light as possible. When you can, try traveling with fewer and less heavy items to help decrease stress on your car's brake system. When you brake with a vehicle full of heavy objects, it takes your brakes extra effort and it can even wear down your brakes over time,
Brake Maintenance
Along with tips above, keeping up with your GMC car's maintenance is essential. Our GMC service center makes this easy, as we offer all of the service your brakes need in one place. Whether your brakes need a regular check-up, or a part replaced, having them looked at by one of experts on a regular basis can help us detect issues early and prevent them from getting worse.
When you're ready to have your brakes looked at, you can schedule car maintenance online with us. Our GMC dealership in Lansing, MI is here to help you!