Terms to Know for Buick Financing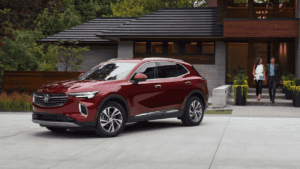 If you've never financed a vehicle before or haven't purchased a car in a while, the idea of Buick financing might seem daunting at first. To help demystify the process, our Lansing, MI Buick dealership put together this handy guide to auto financing terms that you'll encounter in your search for a new or used vehicle.
What is Financing?
Financing is the process of taking out a loan to purchase a new or used Buick Encore or another vehicle. This loan is then paid back with interest over a predetermined loan term.
Do Your Research
It's always a good idea to familiarize yourself with the latest interest rates and loan terms offered by banks and third-party lenders. If an offer sounds too good to be true, it usually is.
What is a Loan Term?
The loan term is a period of time measured in months over which you agree to repay the loan. There are many options ranging from 24 to 72 months. The length of the loan typically impacts your interest, where shorter-term loans may qualify for lower interest rates than long-term loans and save you money in the long run.
What is Interest?
Interest is a percentage of the overall loan amount that is paid in addition to the loan amount. This is essentially a fee to the lender for lending the money and can range from 2 percent for extremely well-qualified borrowers to 10 percent and above with credit scores on the lower end of the scale.
What is a Down Payment?
A down payment is a cash lump sum paid to the dealership when you purchase your new Buick Enclave or another vehicle. This amount goes toward the cost of the car and can also reduce the overall loan amount. For this reason, a down payment can have a significant impact on the final monthly price you pay over the loan term.
Compare Rates
There's no harm in shopping around. Before agreeing to a loan, it's advisable to solicit offers from multiple lenders. This may have a small impact on your credit score, but it can be worth it to make sure you're getting the best rates possible.
To see how a down payment impacts your overall car payment, a financing calculator is available on our website.
Contact LaFontaine to Discuss Buick Financing Options Today
Don't let the process intimidate you. Our friendly staff at LaFontaine Buick GMC of Lansing is committed to helping you find the new or used Buick of your dreams and the right financing offer for you. Call or visit us online to schedule an appointment today!