LaFontaine Buick GMC Lansing has the High-Quality OEM Parts Your Automobile Needs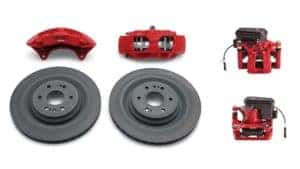 When it's time to replace your vehicle's old parts with new ones, only the best will do. OEM (original equipment manufacturer) GMC and Buick parts are designed specifically for your car and offer the highest level of durability, safety, and performance.
Why are Buick OEM Parts Better?
An online search for Buick and GMC parts reveals a surprisingly large number of options. Big-box retailers, mom-and-pop shops, and dealerships such as LaFontaine Buick GMC Lansing are all viable resources for parts and accessories.
However, even though many big-box retailers and mom-and-pop shops sell reliable parts, high-quality OEM parts are only available at a certified Buick dealership like ours. The parts we sell are exact copies of your car's original parts, straight from Buick of America and designed specifically for your automobile. As such they promise maximum longevity and minimal downtime.
The same is true for Buick and GMC accessories. While the aftermarket accessory market is just as big as the aftermarket parts market, genuine Buick accessories can only be found at our nearby GMC dealership. Here you'll find an extensive line of premium-grade accessories and enhancements to further enhance the looks and performance of your automobile.
Why Buy OEM Parts from our Buick Dealers?
Whether you drive a new GMC truck or a late-model, pre-owned Buick SUV, our local parts center is the place to find genuine OEM parts for all models, years, and needs. From chassis and engine to headlamps and infotainment, we have you covered.
Conveniently located for Michigan Buick owners, we make it equally convenient to book a service appointment: just click the 'Service & Parts' tab on our website and then select 'Schedule Service'. The factory-trained technicians in our state-of-the-art Buick service center will do the rest – quickly, correctly, and inexpensively while you unwind in our comfortable customer lounge.
Get Top-Quality Buick OEM Parts Today
Timely parts replacement is key to optimizing your car's performance, safety, and longevity, and our nearby Buick dealers are committed to this goal. Between our talented team and our regular Buick parts specials, there's no doubt your next visit will be a satisfying one.