LaFontaine Buick GMC Lansing Explains How Paying a Car Loan Works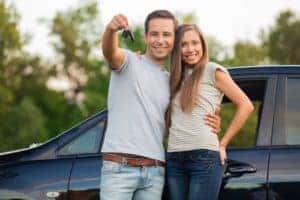 If you're a first-time car buyer, you may have some questions about the auto loan process. The finance department at LaFontaine Buick GMC Lansing can assist you with, along with any other questions you might have about the entire car loan process. We want to help you understand and manage your GMC payments for a new or used GMC vehicle, and make the process simplified and easy to comprehend.
Car Loan Basics
A car loan is money you borrow from the bank to pay for the purchase of a vehicle from a dealership. Then you pay back that loan over time, plus interest, until the loan is paid off in its entirety. Afterwards you will own the vehicle completely and free to do with it as you please.
Here are some key terms you will want to familiarize yourself with before you begin the car loan process.
Loan Term: Refers to the total length of the loan,
Interest Rate: The percentage of your loan that you are charged by the financier.
Down Payment: The amount you pay upon purchase of the vehicle towards the loan.
Monthly Payments: What you pay each month during the length of the loan.
The more your down payment is, the lower your monthly payments will be.
Things to Research Before Applying for a Car Loan
Now that we've gone over some of the basics and import terms, you might want to consider doing some research of your own, so you are prepared when you start the process. For example, test drive some of our GMC vehicles available for purchase.
Also check out the lender you would be getting the loan from and see what types of interest rates they offer. You can also find out if you can get pre-approved. At LaFontaine Buick GMC Lansing you can get pre-approved with our online financing application.
Finally, contact our finance department to find out specifics on financing requirements, such as if you need to put down a down payment, or what the minimum credit score is required for the loan.
Contact our Finance Center
We also accept trade-in credit towards the purchase of any of our new or used GMC vehicles. Use our value your trade-in tool to see how much your current vehicle is worth and how much you might be able to get for your vehicle towards the purchase of a GMC vehicle.
If you have any other questions about the car loan process, please contact the GMC finance center at LaFontaine Buick GMC Lansing, and we will happily go over all of the details with you.