How Your Car Benefits from Regular Auto Repair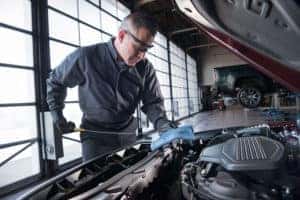 You never realize how dependent you are on your vehicle until it breaks down. Whether you use your cars for adventurous excursions or picking the kids up from soccer practice, you need to make sure you're giving your vehicle the support it deserves. Getting auto repair and services at LaFontaine Buick GMC in Lansing is a great way to do that.
Why Go Through Auto Repair?
Maintaining your car means ensuring your comfort, safety, and possible profit in the future. All drivers want some semblance of comfort when riding in their vehicle. Some want leather seats, others care more about air conditioning, and more still pay close attention to the audio system.
Regardless, all of those components can be damaged. Seats rip, air conditioning malfunctions, and audio systems can encounter static. At the first sign of damage, give the team out our Buick dealership in Lansing, MI a call.
Repairing any issues in your car also means upkeeping your safety. Warped rotors and brake pad friction can wear down your brakes, leaving you in danger. If the engine's oil and coolant canisters are broken, you'll lose important fluids and likely catch on fire.
There are numerous other ways in which your car can encounter issues. While the GMC brand is strong and durable, maintaining that strength is an easy and doable task, thanks our GMC service centers.
There's also a monetary incentive in maintaining your car. Keeping up with your car's services and repairs extends its life, allowing you to use the vehicle for longer periods of time. This saves you money by decreasing the number of cars you have to purchase.
There's even resale value, where a well-maintained pre-owned vehicle can be sold at higher rates than a car which struggles. Replacing a Buick part or two could greatly improve the value of your car.
LaFontaine Lansing Parts
Parts at our Lansing location are produced to fit well within your exact make and model. We thrive off finding the perfect part for you.
Some Common Forms of Auto Repair
Each family is different, so the wear and tear upon their car will be different too. There are some really common preservation procedures, like oil changes and tire rotations to keep your vehicle in its best condition.
Other Repairs and Maintenance
● Brake or transmission fluid refill
● Replace windshield wipers
● Change engine air filter
● Check tires
In serious situations (like an at-fault accident), the extent of damages and the cost may be larger than expected. Still, with LaFontaine Buick GMC offering great specials and deals in their service center, there's plenty of hope for your car.