How are Car Parts Recycled?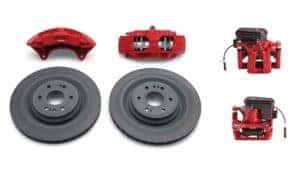 It takes a tremendous amount of steel, rubber, and other components to make a modern vehicle. Increasingly, cars are filled with electronic and digital GMC parts as well that must be disposed of. Luckily, the vast majority of car parts are recyclable for responsible car owners.
Allow the team at LaFontaine Buick GMC Lansing to break down the car parts recycling process.
Metal
Metals make up about 65 percent of an ordinary GMC vehicle. Iron and steel, and small amounts of other metals, must be recycled from cars to support the thriving scrap metal market. Old cars could become tomorrow's skyscrapers!
Body shells, engines, transmissions, and other major components of vehicles are sorted and shredded before being sold to steel mills. In fact, the demand for steel means older cars are now worth more as scrap metal.
Fluids
Unlike scrap metal, the recycling of fluids is less known to the average driver. However, recycling the various fluids from your vehicle is not only simple, but a necessity to support a healthy ecosystem. Almost 400 million gallons of motor oil are recycled yearly in America.
Along with oil, windshield wiper fluid, brake fluid, antifreeze, and other common fluids should always be recycled. Research the local collection site near you to learn how to collect and recycle the toxic substances from your vehicle. Fluids should never be flushed away.
Rubber
Each year, about 86 percent of all discarded car tires are recycled. Both older tires and newer tires are easily recyclable and appear in familiar places. Shredded tires are a common covering for playgrounds or used as fuel for boilers or paper mills at major manufacturers.
Now that you know the recycling basics for car parts, you rest easy knowing your old car won't go to waste. And if you're retiring your old car, then that means you may be in the market for a new a GMC Sierra.
Whether you need a new vehicle or want to learn more about GMC parts, visit LaFontaine Buick GMC Lansing. Our team of GMC dealers can answer all your questions. Contact us today!