Five Ways to Increase the Average Life off Your Transmission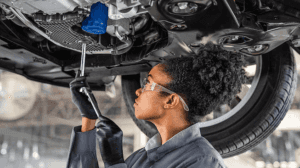 A properly working Buick transmission is essential to get the most out of your Buick Envision or other Buick vehicle. The transmission is the mechanism that changes gears as you accelerate, so you are not putting too much strain on the engine at any time.
The certified Buick service at LaFontaine Buick GMC Lansing will help you get the most out of your Buick transmission and all the parts of your Buick. Follow our recommendations below for the five ways to increase the average life of your transmission.
1. Keep up With Routine Maintenance
All of the different components of your Buick depend on each other to operate smoothly. By keeping up with your routine maintenance on areas like the engine and tires, you will help increase the life of your transmission too.
Be sure to bring your vehicle in for Buick service about every 5,000 to 7,500 miles. Routine maintenance often includes an oil change, tire rotation, and a review of your fluids and filters to keep everything running in top shape.
2. Pay Attention to Coolant
One of the most common afflictions to a transmission is overheating. Keep an eye on your radiator by replacing the antifreeze, and make sure coolant is regularly checked during routine maintenance.
3. Schedule Regular Transmission Service
In addition to routine maintenance, regular transmission service should be completed about every 15,000 miles. This service may include a transmission flush to replace the fluids and inspect the transmission.
4. Add an External Filter
As an added level of protection for your equipped transmission filter, install a second external filter. This will trap even more contaminants from the transmission and keep the fluid cleaner, longer.
5. Drive with Care
A few simple changes to the way you drive will also delay repairing your transmission. Be sure to stop completely before shifting from reverse to drive.
Also, try not to rely on your brake too much because this makes the transmission work harder. Always use your parking brake when parking on a hill to relieve the pressure on your transmission.
If you have more questions about your transmission or other certified Buick service, be sure to ask our certified technicians at our Lansing, MI Buick dealership.