Five Essential Questions to Ask to Figure Out Whether Buying or Leasing Is Advisable for You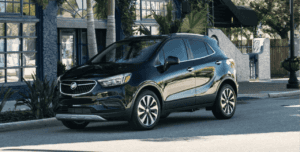 Are you interested in a new vehicle like the Buick Enclave, Buick Encore, or GMC Acadia? If so, we applaud your excellent taste in automobiles. Now, you have to decide whether a Buick lease or auto loan is best for you, which is something the experts in our Buick finance center can help out with.
As you work with our pros, don't be shy about asking a few essential questions that will help reassure you that you've come to the right decision in the end.
Which Option Requires the Biggest Down Payment and Monthly Payments?
Motorists who contact our Lansing, MI Buick dealership often ask us whether leasing or buying commands the highest monthly payments and down payment. While there are exceptions, people generally enjoy lower required down payments and monthly payments when they lease rather than purchase an automobile.
Do You Limit the New Vehicles that are Eligible for Leasing?
No. Just like you can purchase any one of the latest Buick models or new GMC vehicles on our lot, you can lease any of them, too.
Will I Own my Car at the End of a Lease?
Financing a car puts you on a path to owning the vehicle. When you pay off your auto loan, you'll own your automobile outright. By contrast, signing a lease is like entering into a long-term rental contract. As a result, you won't build any equity in the vehicle you lease, meaning none of your payments will give you an ownership stake in the automobile. When your contract expires, you'll need to return your leased vehicle to LaFontaine Buick GMC Lansing or you can buy it at that time.
Is Either Option Feasible if my Credit isn't the Best?
Both leasing and buying are valid options for people with poor credit. Although that's true, it's often easier for drivers with questionable credit scores to purchase an automobile than it is for them to lease one.
Can I Sell a Leased Automobile?
When you lease one of our new GMC vehicles or Buick models, selling the automobile will not be an option for you as your leasing company will maintain complete ownership of the car. If you want to sell your vehicle, you can talk to our finance experts about a lease buyout, which will enable you to buy your leased car before your contract is up. Once you own your automobile, you can sell it at will.