Essential Buick Parts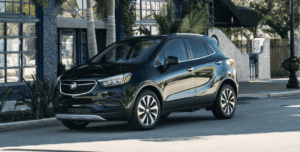 You have already made the commitment to drive a dynamic and exciting vehicle: a Buick. Why would you repair or maintain your vehicle with anything other than certified Buick parts? We understand how much you love your vehicle, and that's why we are here to help.
At LaFontaine Buick GMC Lansing, your Buick is our first priority. Our certified service center is equipped with qualified staff people who understand and are dedicated to the highest standard of Buick performance.
Essential Buick Parts Overview
There are a few different kinds of car parts to understand before you choose the parts that will make up your prized Buick vehicle. Repairs are normal and to be expected as your vehicle ages. Be sure you know what kind of car parts you are comfortable with before repairs are needed.
OEM parts, or Original Equipment Manufacturer parts, are precisely designed to fit inside of the Buick you drive. These parts are made only for Buicks and are guaranteed to fit and perform just like they would when the car first drove off the factory floor upon its assembly.
Aftermarket parts are made in a mass volume and can fit into many different cars at the same time. The companies who make aftermarket parts are not dedicated to one kind of vehicle, and instead make parts that can be applied to as many different kinds of vehicles as possible.
Aftermarket parts are less expensive than OEM parts because they are mass produced and can be used widely and indiscriminately. However, these parts are less reliable than a part that was specifically designed to make your exact car perform at its peak, like OEM parts deliver.
You can also look into recycled parts as the most affordable parts option. These parts are salvaged from a dismantled Buick Envision or Buick Enclave. Use these parts with caution, as there is no guarantee of how much useful life is left on recycled parts.
Visit our website to order OEM parts online and view our line of available Buick accessories. Customize your vehicle and maintain its signature Buick performance with our official parts and accessories.
If you still have questions about what kind of parts would work best in your Buick vehicle, don't hesitate to contact your Buick service center. Visit our website for exclusive Buick service and parts coupons from our Buick dealership in Lansing, MI.