Common GMC Parts that Require Replacement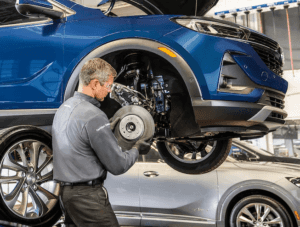 If you've ever seen a GMC truck that's older than you are and it's still chugging along stubbornly? Have you ever wondered how a car that old can still even function properly?
It's simple: you start with a great vehicle, and you maintain it diligently with GMC parts. Those replacement parts are key to ensuring that your vehicle lasts as long as it should.
GMC Replacement Parts
Under normal use, most of the components in a GMC Terrain will last the life of the vehicle. They're able to do this because of a class of parts called "consumables," meant to be replaced as they wear out. Many of these consumables protect your vehicle, so it's never a good idea to neglect them.
Tires
As a rule of thumb, you'll need new car tires every 50,000 miles. However, this is a guideline, and there are times it should be ignored. Towing and hauling lead to faster wear. Cracks and sidewall damage should be addressed immediately. Age may also occasionally trump mileage, as is the case with your spare; change tires every five or six years even if they have very low mileage.
Batteries
Car battery replacement should take place every five to six years, but this also comes with a caveat: batteries require maintenance. Keep them clean, topped off, and charged between replacements.
Fluids
Some of the most important GMC parts come in bottles. You should visit every five to ten thousand miles for an oil change (this varies based on your oil formulation and the vehicle's age), and make sure that other fluids like wiper fluid, coolant, transmission fluid, refrigerant, and power steering fluid also need to be changed every now and then.
Filters
A cabin filter ensures that you don't breathe in contaminants. Other filters, for gas, oil, transmission fluid, and air, help keep a number of key systems running cleanly as well.
Brakes
Brake service ensures swift, sure stops. We do this by inspecting brake lines and other components, repairing, and replacing as needed. Use our GMC service specials to save money and preserve passenger safety.
Other Parts and Service Essentials
These are just a few of the parts that need periodic replacement. Don't worry. Your owner's manual and your GMC dealer will help you stay on track. Everything related to parts and service for your truck or SUV is right here at LaFontaine Buick GMC Lansing!