Common Buick Parts to Upgrade and Replace at LaFontaine Buick GMC Lansing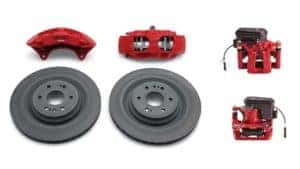 Your Buick vehicle is built to last, but not every part inside of your car is going to go the distance. Eventually you'll need to invest in new Buick parts, but not to worry. LaFontaine Buick GMC Lansing has all of the OEM components that you need.
Common Car Parts to Replace
Some of the parts in your new Buick vehicle eventually need to be taken out and replaced with new ones that can perform effectively. Commonly replaced parts include:
Engine air filters and engine oil filters: These work together to help protect your engine from impurities and particles that could cause damage. Over time these filters struggle to filter out the things that can damage your engine, so they need to be replaced.
The battery: Your car's battery helps it start. If your battery is past its prime, you run the risk of getting stranded somewhere without a working vehicle. We'll check on your battery's ability to hold a charge and replace it if needed.
Brake pads: There are many different parts in your Buick vehicle that work together to bring your vehicle to a stop when needed. Brake pads are one of those important parts, but they wear out over time. We'll replaced your worn brake pads with new ones.
Brake rotors: These are another critical part of your braking system. They also wear out over time, but we can easily replace them for you.
Spark plugs: These provide a spark needed to start up your engine, but over time they corrode and need to be replaced. Old spark plugs misfire and can waste gasoline. They can cause other issues as well.
Cabin air filter: This keeps dust, dirt, allergens, and other things from outside from getting into the cabin. This keeps air quality high for you and your passengers.
Headlight bulbs: You need working headlights to illuminate the way forward at night. If your headlight bulbs burn out, we can replace them. Our Buick service center staff can handle any other electrical problems too.
Schedule Your Buick Service Appointment Today!
So if you think that you're in need of some official Buick replacement parts, schedule an appointment at our service center. The skilled mechanics at our Buick dealership in Lansing, MI are ready to assist you!