Can You Extend a Buick Lease?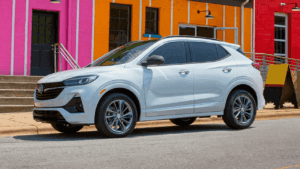 One of the more frequently asked car leasing questions is whether a lease can be ended early. One that isn't asked as often is just as important: what if you want to extend your Buick lease?
There are many valid reasons to do this, and if you decide it's right for you, your Lansing Buick dealer is here to help.
Why Extend Your Car Lease?
There can be a number of good reasons to extend the lease on your SUV.
You'd like to lease another new Buick vehicle, but the model you had in mind hasn't arrived at the dealership yet
You've decided to buy out your current lease, but you're waiting to straighten out some financial matters, or waiting on a bonus or tax refund check
You simply lost track of time and the end of your lease snuck up on you
You'd like to take advantage of Buick lease offers toward year end
How Do You Extend Your Buick Lease?
Unlike early termination, where there are fees, penalties, and credit ramifications to worry about, extending a vehicle lease is refreshingly straightforward. GM automatically extends the lease if you haven't returned your vehicle within 11 days of lease end, repeating monthly for up to six months.
However, you should be aware that your original mileage allowance remains in force for that time. If your original lease was 36,000 miles over 36 months and you're already at 35,000 miles, be aware that going over that cap will incur overage penalties.
On the other hand, what if you decide ahead of time that you'd like to extend the lease? In this case, you can contact the company that originated the loan (usually GM Financial), explain your circumstances, and explain that you'd like to extend the lease.
You may have more flexibility under this approach since you can also negotiate additional mileage for the duration. However, you should also be aware that a history of missed payments or other issues may lead to your request being denied.
Alternatives to Lease Extensions
If you've run down your options, and the pros and cons, you may well decide that extending the lease isn't your best choice. Not to worry; you have many others. You can choose to purchase the vehicle based on the value locked in at lease inception.
You can lease another vehicle, purchase another Buick SUV, or even explore our inventory of Buick Certified Pre-Owned models. For help making this or any other auto financing decision, get in touch with LaFontaine Buick GMC Lansing.