Buick A/C Service with LaFontaine Buick GMC Lansing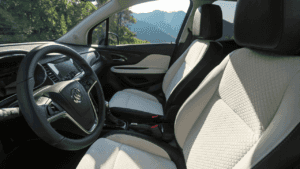 We all love a warm sunny summer day, but nobody enjoys feeling overheated and overwhelmed by the blazing heat of the scorching sun. Ensuring you have a fully functioning and operational a/c unit will guarantee that you stay comfortably cooled off at all times.
To avoid being stuck in a hot car on a searing summer day, LaFontaine Buick GMC Lansing provides high quality, and professional Buick service, including a/c service and repair.
The Importance of Your Buick's Air Conditioning Service
The air conditioning system in all Buick vehicles does so much more than keep you from overheating in your vehicle. The a/c unit also works to filter out allergens, pollutants, and contaminants by circulating clean air into your cabin and throughout the entire interior of your car.
Another benefit of you're a/c unit, is that the system helps to regulate both the temperature and humidity of your Buick vehicle. This not only keeping you from feeling burned out, but also helping to prevent gradual damage to the electronics in your vehicle and your upholstery.
A/C Unit Issues and Signs of Damage
There are many warning signs to watch out for indicating you're a/c unit is in desperate need for an inspection and repair. Blowing warm air, reduced airflow, odd noises coming from you're a/c unit, and signs of leakage, all of these are red flags that you're a/c unit may be damaged or in need of urgent repair.
Also, be on the lookout for any oily substances accumulating around the hoses of you're a/c unit, which could result from leaking refrigerant, a problem which is the number one cause of a/c unit failure. Other common a/c issues include blocked/clogged condenser, broken condenser, electrical issues, faulty cooling fans, or a bad compressor.
Any one of those issues could be the cause of the problem. But the best way to isolate what the issue is for sure is by bringing your vehicle in for a diagnosis to LaFontaine Buick GMC Lansing for an inspection. Our team of certified technicians can let you know if it's simple fix or if you need a Buick part replaced.
 Schedule Your AC Repair
Schedule service at our Buick dealership in Lansing, MI today for a/c unit inspection, maintenance, or repair. Our team of certified and trained technicians will use their expertise to have you're a/c unit performing once again at factory level standards for your luxury Buick vehicle.