Are Lower-Mileage Used Cars Better?
Low mileage is nice in used cars, but it isn't the only thing that matters. When you shop for a used car with LaFontaine Buick GMC of Highland, we will work with you to find out what matters most to you in a used car and get you inside one today!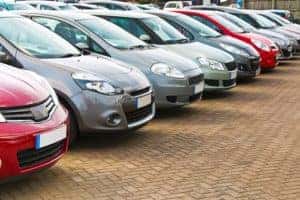 What's More Important Than Low Mileage in Used Cars?
If a used car doesn't work for you, then it doesn't really matter whether or not it has low mileage. For example, if you are in the market for used trucks, then it doesn't really matter that you can get a used Buick Envision with low mileage.
You also may need a used vehicle with a feature that you can't live without. For example, a lot of drivers need a vehicle with a back-up camera as they no longer can back into a spot without one.
Some drivers need a used car that will still allow them to hook up their smartphone as they will be taking tons of calls while out on the road. Whatever the need may be, speak with your car professional at LaFontaine Buick GMC of Lansing to find a used car with all of the features that you need.
Another important factor with used cars is price. If a used car has low mileage, that typically means that it has a higher price. When you shop with us, you can find phenomenal used cars that are also less than $10,000. There are some hidden gems in this part of our lot, so make sure you stop by to see them for yourself.
Certified Pre-Owned Used Cars
Without question, the best used cars on our lot are the Certified Pre-Owned cars. Not only do these vehicles have low mileage, but they are also newer than your typical used car. These vehicles must also undergo a thorough multi-point inspection to make sure that they meet all standards both cosmetically and functionally.
A Certified Pre-Owned vehicle also still has some warranty coverage. That means that if your vehicle needs service due to a faulty part or something that has been recalled, you can potentially save that money as they part may be under warranty.
LaFontaine Buick GMC is here to help you find a used car that fits all of your needs. Stop by our dealership to take a test drive and learn how you can finance a used car today!