All About the 2023 GMC Hummer EV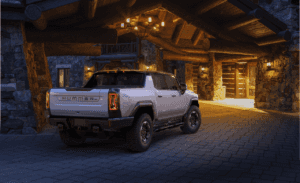 Have you ever wondered, "Are there GMC dealerships near me where I can learn about GMC vehicles in the pipeline?" If so, know that you can rely on our team to tell you about current and future automobiles the GMC brand has in the works.
With an estimated base price of $79,995, the 2023 GMC Hummer EV is already generating plenty of buzz, and it certainly has area drivers curious about the SUV.
All-New GMC Hummer EV: the Basics
Available trims:
GMC Hummer EV2
GMC Hummer EV2X
GMC Hummer EV3x
GMC Hummer EV Edition 1
Everyone at LaFontaine Buick GMC Lansing knows you have plenty of car dealerships in Lansing, MI to choose from. That's why we're proud the GMC brand continues to innovate and introduce new vehicles like the GMC Hummer EV. As its name implies, the GMC Hummer EV is an all-electric automobile. What's not as obvious, is the vehicle's in-your-face ability to compete with gas-only or hybrid alternatives.
The 2023 GMC Hummer EV will be available in several trims. While each trim has its perks, they're all powerful, with the base model's powertrain generating as much as 625 hp and 7,400 lb-ft of torque. And that's just with two motors! Upper trims have three motors so it shouldn't be surprising that their powertrains can crank out up to 830 hp and 11,500 lb-ft of torque.
Charging
While drivers know what to expect from tried-and-true automobiles like the Buick Encore and the GMC Acadia, not everyone is as certain about all-new vehicles like the GMC Hummer EV. As it relates to all-electric vehicles, many motorists who contact our GMC dealership ask us about charging electric automobiles.
The length of time it takes to charge an EV depends largely on the automobile's compatibility. The base trim of the GMC Hummer EV is 400-volt DC fast charge capable, with 800-volt DC fast charge capability as an option. All other trims are 800-volt DC fast charge capable.
Features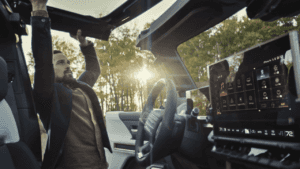 Features you'll notice is the SUV's lineup:
HD surround vision
Infinity roof
Torque vectoring
When you look through the latest GMC models on our lot, you'll see that they're outfitted with sought-after features. We're proud to tell you that the same can be said for the 2023 GMC Hummer EV. Of course, the features the SUV will have depend on the trim you decide to pre-order.
Are you ready to take a step into the future with an SUV that's familiar yet all-new? If that idea appeals to you, head over to our GMC finance center to pre-order a 2023 GMC Hummer EV today.