A Vehicle Inspection FAQ for Buick Service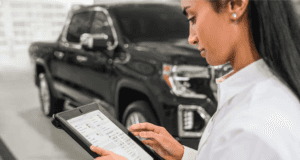 Most drivers know that vehicle inspections are an important part of regular Buick service, but not many know what occurs during the process and why it is so critical. To educate the community around our Lansing, MI Buick dealership, we put together this brief list of frequently asked questions about car inspections.
Q: Why Should I Get my Vehicle Inspected?
A: Drivers tend not to even think about inspections until something goes wrong with their used Buick Encore or other vehicles. Oftentimes, however, it can be too late to resolve the presenting problem, necessitating more work and a costlier bill. Scheduling regular inspections can frequently catch issues before they become more severe, saving you time, money, and unnecessary frustration.
In addition, it allows our technicians to ensure that your filters, fluid levels, and other minor elements of automobile upkeep are taken care of, so your car remains in prime condition.
Q: What Happens During a Buick Inspection?
A: Vehicle inspections are usually quick and methodical. Our technicians will examine and test every critical system of your Buick Enclave from bumper to bumper, looking for any faults or irregularities. This includes checking your turn signals, brakes, engine performance, and more to ensure everything is working as it should.
Once we're finished, we'll present you with an easy-to-understand report card that shows where your vehicle passed or failed certain inspection points. From there, we can discuss steps to take to bring your car to top shape or preserve its condition.
Q: How Frequently Should I Have My Buick Inspected?
A: Most experts suggest having your vehicle inspected once or twice a year, but the optimal frequency will be determined by your vehicle's age and your driving habits. To learn which regimen is best for your car, contact our service center today.
Q: Where Should I Get My Next Inspection?
A: The best location in Michigan to get your Buick inspected or serviced is at LaFontaine Buick GMC of Lansing! Our friendly and knowledgeable technicians would be happy to speak with you and set up an appointment to ensure your vehicle is in an optimal state for the year ahead.